GUIDE TO BEAUTY WORLD ME 2019 WITH NAZIH COSMETICS!
We're quite close to Beautyworld Middle East 2019 Exhibition happening in Dubai world trade centre  and we're super excited to participate this year at the largest international beauty products fair that invites many brand ambassadors in hair care, fragrances, Nails, skincare & Makeup. 
At Nazih  Group's Main Booth Located in Hall 7, you'll find a globally unrivaled range of well known beauty products  from more than 22 international brands such as Paul Mitchell , GHD , Keratin Complex , Parlux , INDOLA , WETBRUSH , BRAZILIANSECRETSHAIR , STAGELINE , OLAPLEX , ANTIDOTPRO , Macadamia, Casmara , Home beauty , Maletti , Takara Belmont  , Artistic Nails , Nilo , RICA WAX , FASHKOOL , Moroccan Oil  and many more😎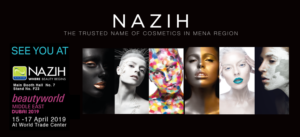 The 2018 edition of Beautyworld Middle East hosted over 1,700 exhibitors from 62 countries and 25 international pavilions and welcomed over 36,000 visitors from 143 countries.✈✈✈ And we are expecting even more beauty professionals to visit us in Beauty world 2019 😍
If you're still thinking we advise you to Hurry up and Plan your visit this year from 15 – 17 April 2019 at the Dubai World Trade Centre. Here are some helpful tips before your visit:
1- Avoid the queues by registering online to get your badge E-mailed to you Here. 
2- Check the brands who are with us this year HERE and plan your schedule to get a perfect deal for the brands you are interested in.
3. A chance to meet ' NAZIH HAMAD ', the Managing director of Nazih Group to discuss your business ideas and opportunities.
4. A chance to meet the international brands marketing heads face to face.
5. We recommend that you wear your most convenient sneakers as you will come across very interesting shows which we will run in our major brands' booths.
6. Don't miss the 3 days nail it! competition that we're having on a daily basis powered by OPI & Artistic Nail Design, every day there's a talented winner announced at the end of the day.
7.Book your travel arrangements through Beautyworld me online CLICK HERE and avail the special packages.
Want to know what more we have this year in Beautyworld ME? Visit us from 15 – 17 April at Nazih Group Main booth Hall 7 at Dubai world trade centre. See you soon… 😍